Jewelry industry's new 'TrustChain Initiative' uses blockchain to track products
The world's major jewelry and gem businesses are deploying a blockchain electronic ledger that will verify the origins of their products, all the way from the mines to the retail cases.
Leading jewelry companies that have struggled with proving the authenticity of their goods have launched an online electronic ledger based on blockchain to improve global provenance in the diamond and jewelry supply chain.
The new TrustChain Initiative uses IBM's blockchain cloud service to allow jewelry buyers to verify the providence of gold and diamond necklaces, bracelets and rings by accessing an online platform that tracks them from gem mines to jewelry store cases.
The collaboration also includes Underwriter Laboratories(UL), an independent third-party verification service, together with five diamond and jewelry companies that represent the entire supply chain: Rio Tinto Diamonds (diamond supplier for Proof of Concept only), Leach Garner (precious metals supplier), Asahi Refinery (precious metal refinery), Helzberg (US jewelry retailer) and the Richline Group (global jewelry manufacturer).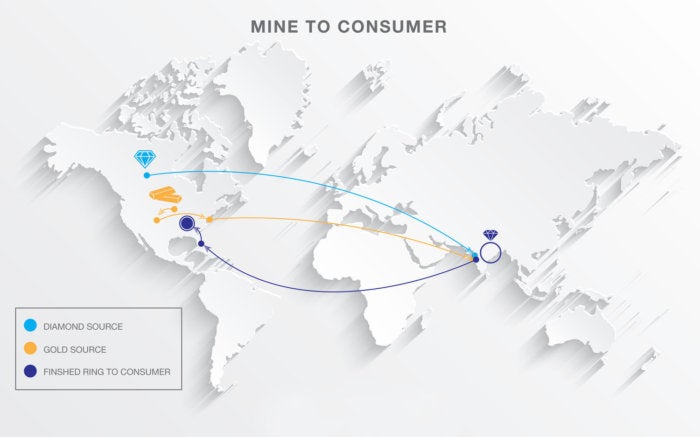 "This initiative is important for our industry as we seek to raise the collective responsibility and provenance practices to new heights," Mark Hanna, Richline Group's Chief Marketing Officer, said in a statement.
Trustchain is still working to determine the exact process by which consumers will be able to verify the provenance of the jewelry they buy, an IBM spokesperson said.
Martha Bennett, a principal analyst with Forrester Research, said that while the blockchain network is a "worthwhile initiative" and "a great start," it will need more participants to come on board for it to gain traction.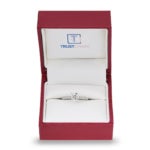 "I don't know how many types of ring a typical jeweler stocks, but it's bound to be more than six types," Bennett said in an email, referring to the initial number of engagement ring styles the network will initially track. "I wouldn't call it a 'solid production roll-out.' It'll be interesting to see how this fits in with Everledger and De Beers' proposed diamond tracking on blockchain initiative."
In 2016, London-based Everledger Ltd. also used IBM's blockchain service to create a supply chain network to register and track diamonds.
In December, De Beers, which controls about 35% of the world's diamond production, announced its intention to launch what it called an industry-wide blockchain network to track diamonds. Along with verifying a diamond's authenticity, the De Beers blockchain network will be able to prove the gems are not mined in war-torn areas where the sale of the gems could be used to finance violence.
"Each event or interaction registered on the chain becomes a 'block' that represents unique information, data or characteristics about a diamond as it passes through the value chain. Each block must be verified by the blockchain community before it can be added to the blockchain," De Beers explained in its marketing materials. "The blockchain continues to grow with each new block that is registered. When 'chained' together, these blocks will construct a complete digital record for each diamond."
The new TrustChain network will also provide digital verification, physical product and process verification, and third-party oversight (by UL) of the jewelry originating from the five entities. The collaboration's goal is to instill trust in the origin and ethical sourcing of jewelry by bringing together a community of responsible and ethical organizations across the complex and jewelry supply chain.
The global blockchain distributed ledger market accounted for US$228 million in 2016, and is expected to reach $5.4 billion in value by 2023, growing at a combined annual growth rate of 57.6% over the next five years, according to a report from Allied Market Research.
Supply chain tracking is expected to be one of the first and most prominent uses of blockchain technology for business, right alongside cross-border finance.
Paul Brody, Ernst & Young's (EY) Global Innovation Leader for Blockchain Technology, said the blockchain market in the past 18 or so months has been moving from an "explain this to me" phase (PowerPoint) into the "prove it to me" phase (working conference room pilots).
"Now we're in the 'Okay, build it for me' phase," Brody said via an earlier email. "We see this in our business: clients are moving projects towards production and...we have similar conversations with others in the industry."
Deloitte CTO Bill Briggs agreed: "You can go industry by industry and you're seeing concepts proven, pilots now moving into production. Things like supply chain validation, food safety verification, consumer products companies and potentially industrial and even life sciences companies are starting to circle it."
Private or "permissioned" blockchains can be created within a company's four walls or between trusted partners and centrally administered while retaining control over who has access to information on the network.
Blockchain can also be used between business partners, such as a cloud vendor, a financial services provider and its clients or between jewelers and their suppliers.